Betasso Overland Camper
There are so many great options for pop-up truck bed campers. GFC, SuperPacific, AT Overland, Project M just to name a few. They make a great platform for a lightweight, low profile but fully functional camper.
We can help you customize your camper with everything you need to get out and stay out longer.
Explore the Betasso - We took a stock Ford F150 with a GFC Camper and turned it into the ultimate minimalist overland camper. Equipped with interior living space, slide out camp kitchen, efficient storage and enough power and water to keep you off grid for days.
Hangout INSIDE
Interior Living Space
Sometimes it's nice to have an inside living space easily accessible. Pop the top and hang out when the weather doesn't cooperate.
Storage cabinets double as bench seating around a pivoting table on a Lagun mount.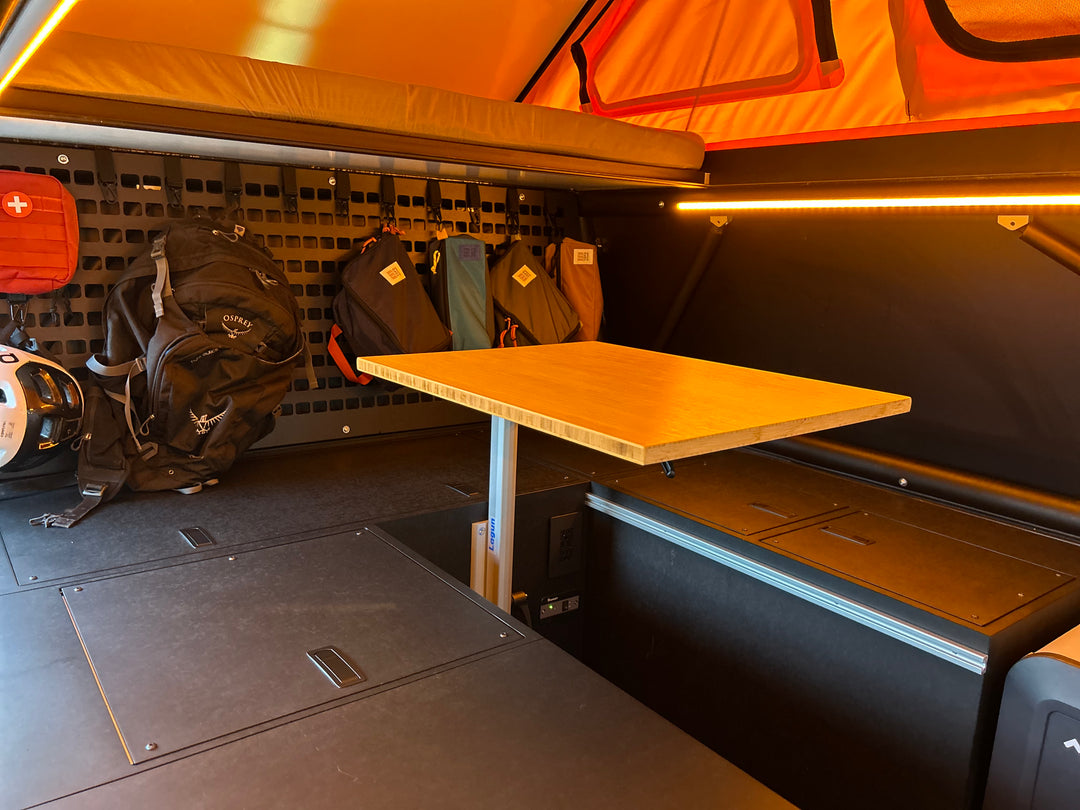 The Bunkhouse
Sleeping for 4
With cushions on the lower level bench, the space can be transformed into bunk mode with sleeping for two small children.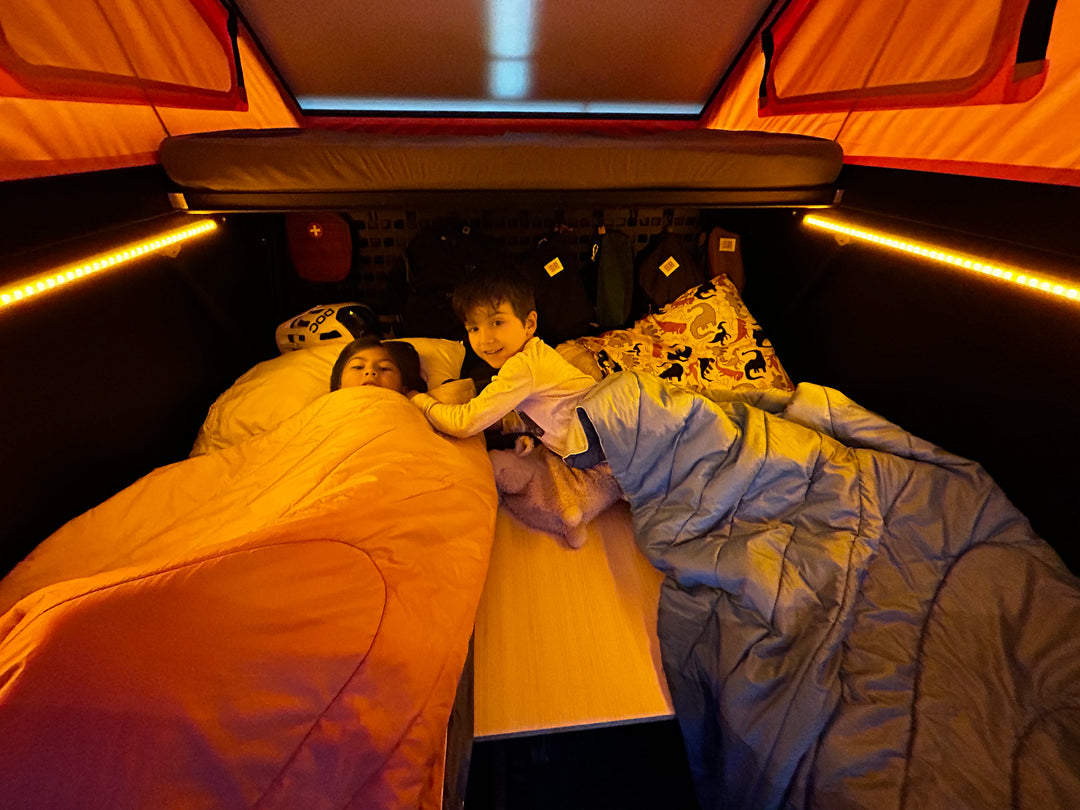 270 degree AWNING
Shelter from the Elements
A 23Zero 270 degree awning with optional sidewalls provides shelter from the elements
ALWAYS BE CHARGING
Power When You Need It
400 watts of solar, 200 Amp Hour Lithium Battery, 700 watt inverter provides more than enough power for the fridge, lights and all your devices.

The power system charges batteries from both solar and the vehicle alternator.
30 gallons
Stay Out Longer
A large 30 gallon water tank with quick release hose system provides enough water to get off grid and stay out longer.
Slide out Camp Kitchen
Outdoor Cooking
The slide out camp kitchen has storage and prep surfaces to simplify camp setup and get cooking fast.
A Dometic CFX3 45 on a slide out keeps your food and drinks cool.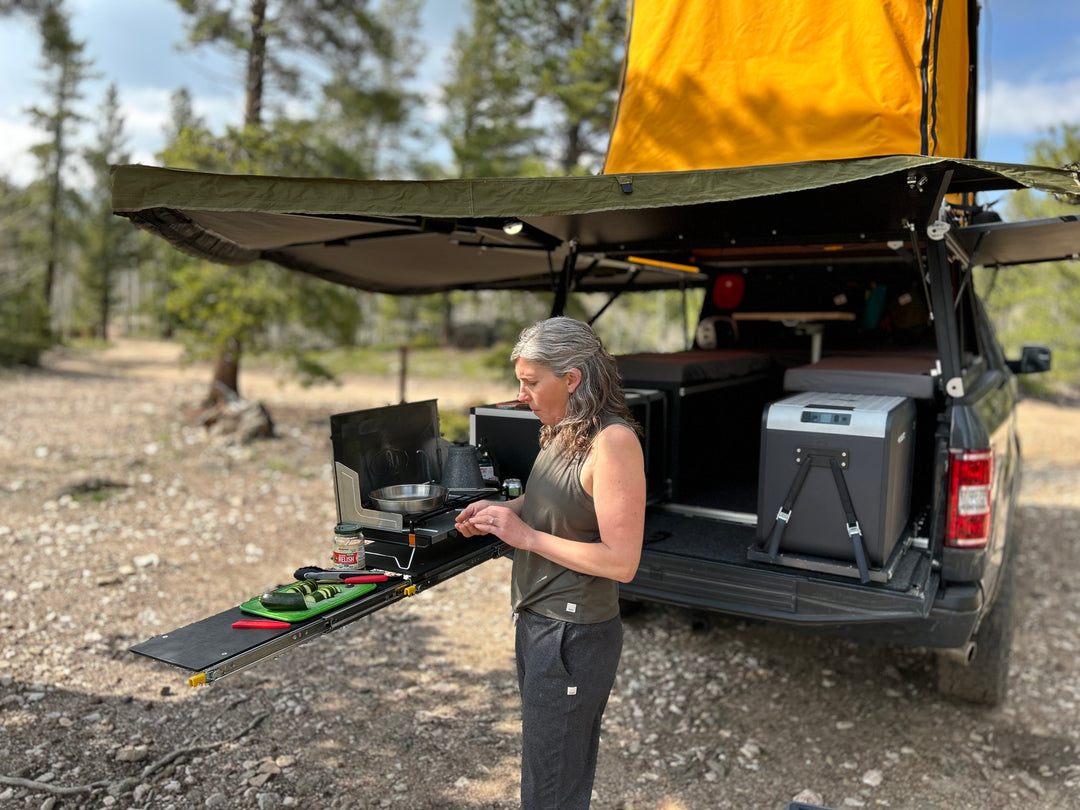 Geyser Systems
Conserve Water
We integrated a Geyser System which helps conserve water for dishes and outdoor showers. Wash dishes or take a hot shower with less than a gallon of water.
Starlink
Stay Connected
Work remotely or keep connected with internet from Starlink.
23Zero Shower Enclosure
Outdoor Shower
Rinse off after a long day outdoors.
Take a hot outdoor shower using the Geyser System in the 23Zero outdoor shower enclosure.
Daily Driver
Truck Mode
With the storage modules built to the same level as the refrigerator, you still have a flat area if you need to haul some light loads.
Drop the table down, throw a tarp over the storage modules and head out to the hardware store.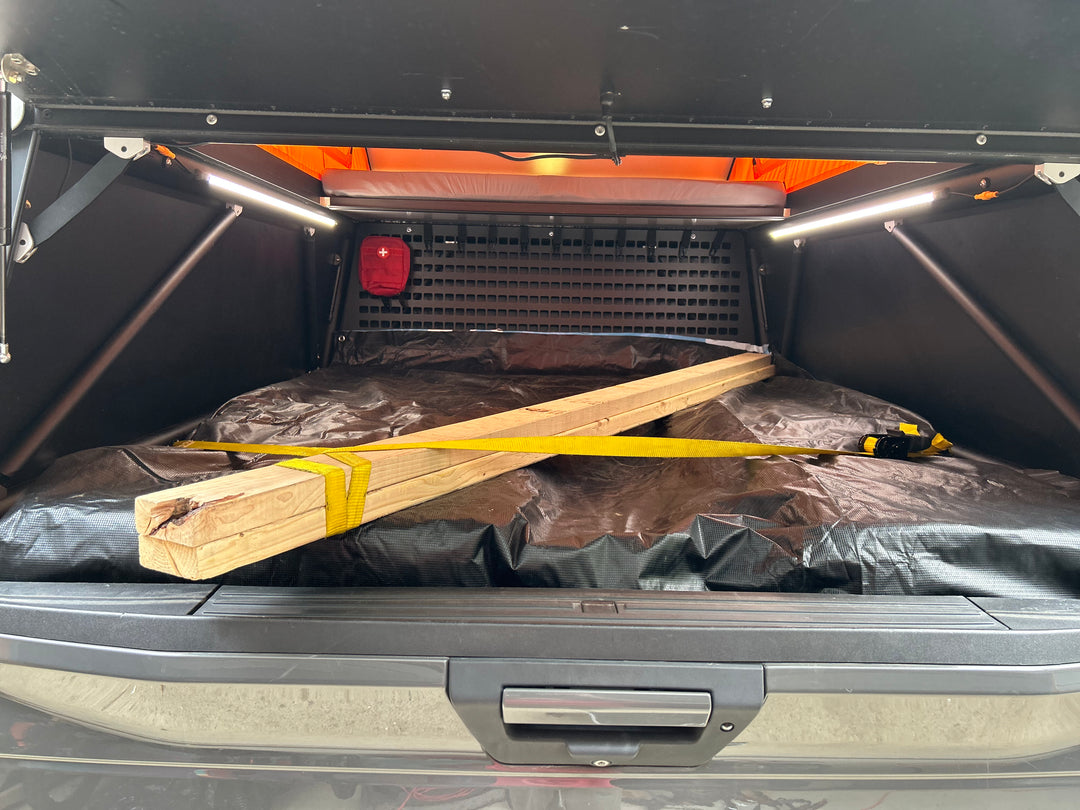 Full Builds
Bring us your truck and we can work with you to turn it into the ultimate off grid camper.
Contact Us
Available Now
Our Prototype is for sale. Purchase the full truck, camper only or just the cabinets.
Learn More