Kokopelli Expedition Camper
Our Flagship Off Grid Camper
Modern, Open & Airy
We believe in a focus on design simplicity and usability.  It's the little things that transform a recreational vehicle into your home away from home.
Our open layout combined with large, safari-style windows lets you enjoy outside from the comfort of your camper. With clear sight lines from the living space to entry and sleeping areas the Kokopelli camper has a feeling of spaciousness even in a relatively compact footprint.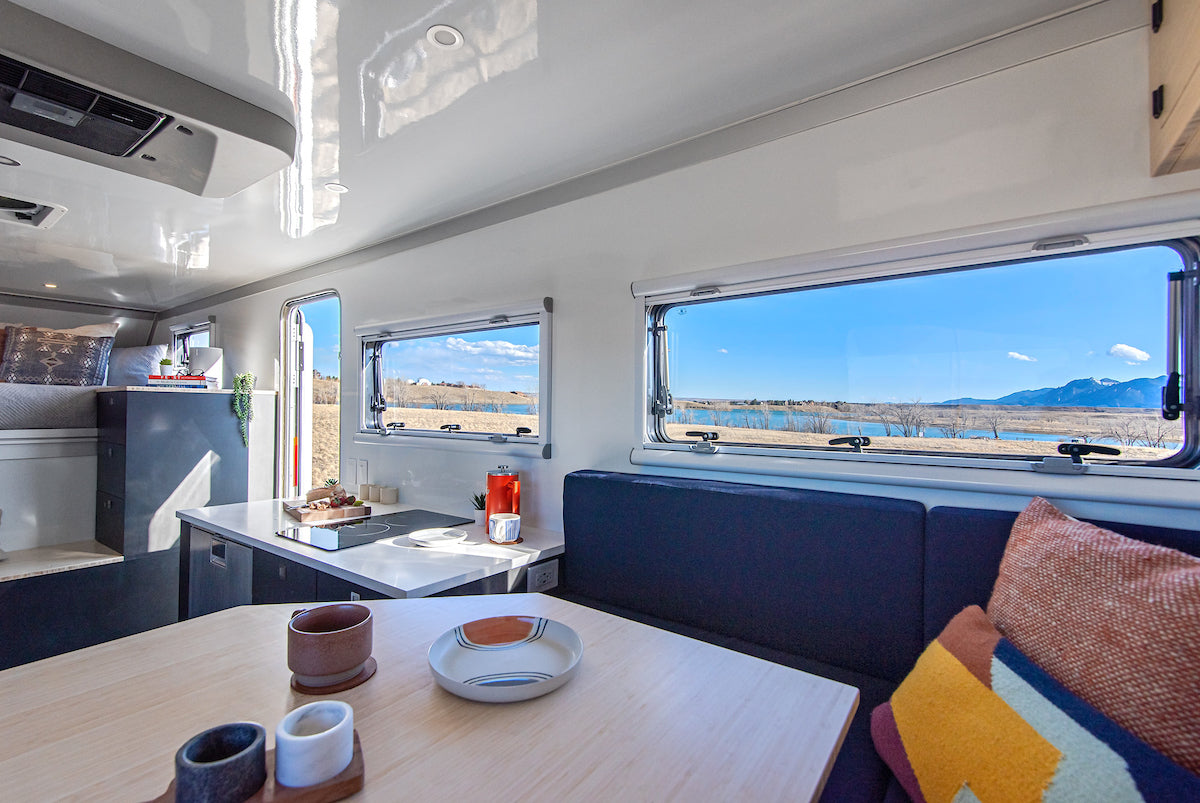 Four Seasons of Fun
The Kokopelli was designed from the ground up to take you where you want to go in all four seasons. Here in Colorado, we love the sun and the snow and we believe our vehicles should excel in all circumstances.
To achieve this, we start with a highly insulated habitat box which has R-17 insulation value in the walls, floor & ceiling. The habitat box corner extrusions have a thermal break rated at R-14 which reduces heat/cold transfer from outside to inside. Double paned windows further minimize heat transfer.
A hydronic heating system powered from the vehicle fuel tank warms the interior with two separate temperature zones.
Water tanks are intentionally located inside the habitat box to keep them functioning even when temperatures drop.
Sustainable Durability
Richlite, an extremely dense, durable and material, is used for interior walls and cabinet panels. It's so dense that a common application is countertops that handle daily abuse.  
Plyboo accents have both functional and aesthetic value. The bamboo wood has a sleek, "sliced" look and is architectural grade for dimensional stability.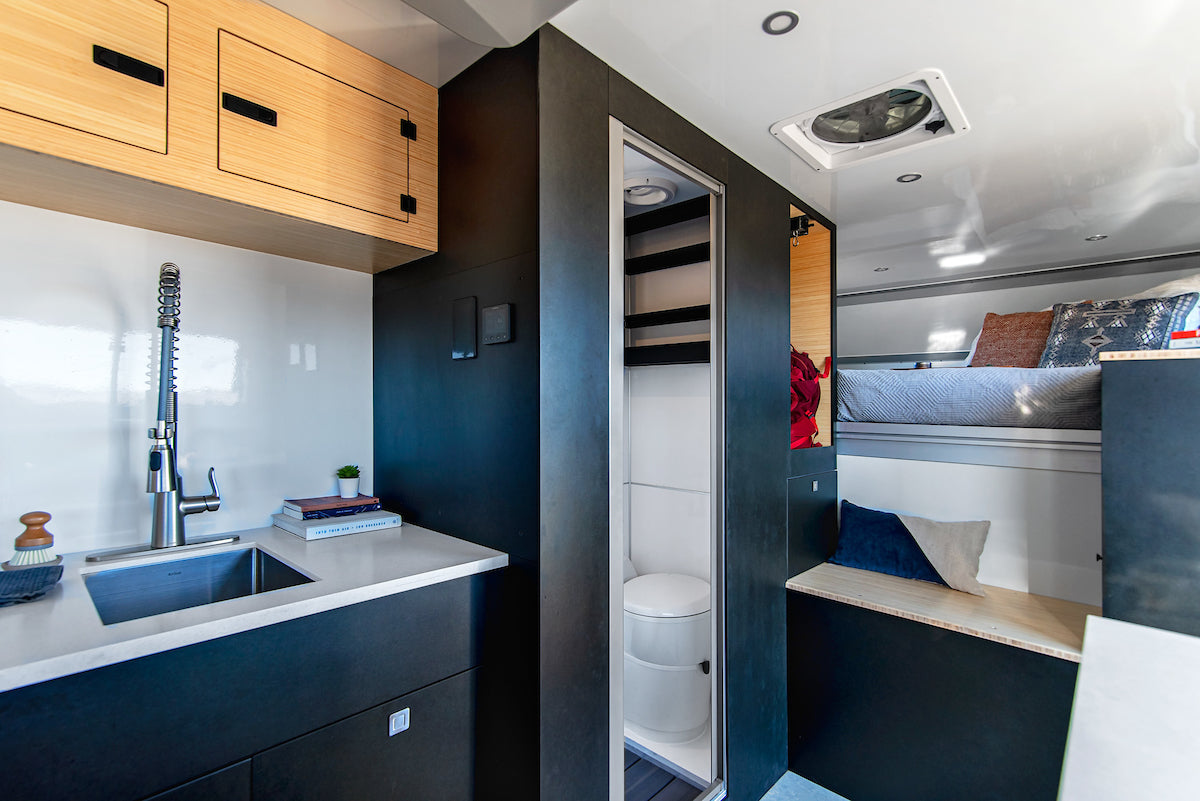 Off Grid Ready
Get off grid and stay out longer. At the core of our off grid capabilities is a power center with 824 amp hours of lithium battery storage, 1280 watts of solar, and dependable Victron components.
A 90 gallon fresh water tank is standard. An optional filtration system lets you refill your tank from freshwater lakes or rivers.
The Kokopelli is Starlink ready so you can work remotely or stay connected even without cell service.
Built for a Crowd
Adventure with your whole crew. The Kokopelli works great for one or two, but can also function well for a small family or entertaining guests. With 6'7" interior ceiling height, the Kokopelli feels spacious.
The main cab-over sleeping area allows you to stretch out with a true king mattress and a flat screen TV.
The dining area features a comfortable U-shaped bench that can easily seat 6. The pedestal table telescopes down, converting the dining area into a queen bed. Entertains many, sleeps 4+.
Explores Anywhere
The Kokopelli starts with the highly capable 4WD Ford F550 platform which delivers the torque you need (1050 ft/lbs with the diesel). Combined with 41" Continental MPT81 tires, the Kokopelli can power you up the steepest terrain.
A four point zero torsion subframe protects your habitat box from chassis twist and keeps all four wheels on the ground longer.
Custom tuned Fox Performance Elite 2.5 suspension will ensure an efficient and comfortable ride so you can cover more miles off road without fatigue.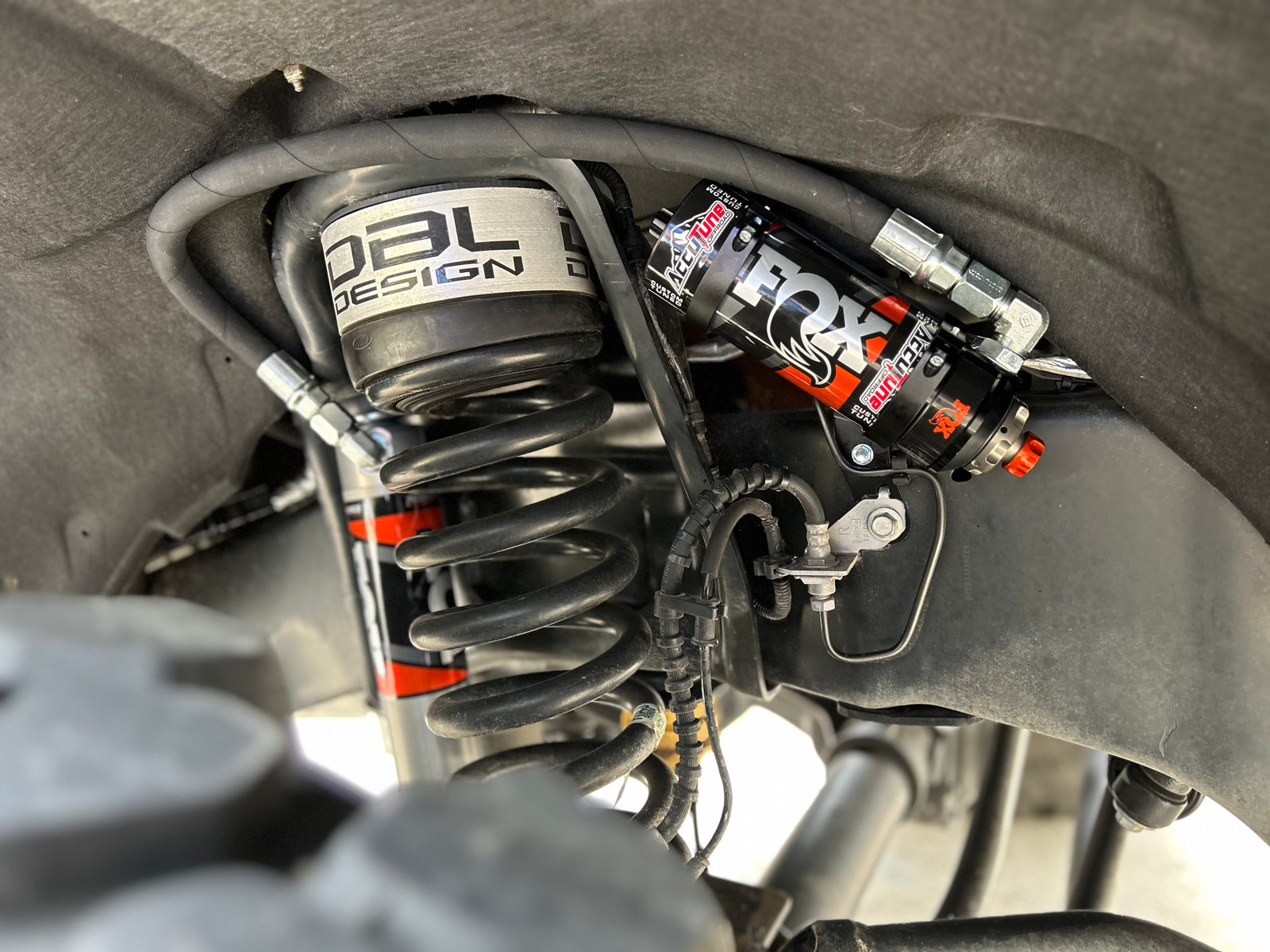 Comforts of Home
Outdoor adventures can be harsh, so we know the value of a good night's sleep and the comforts of home. The Kokopelli comes standard with a king size 6" memory foam mattress in our sleeping quarters - no camping mattress here. An optional Froli bed system can improve comfort even more.
Blackout shades on all the windows and our highly insulated walls keep out the light and noise to ensure you can be at your best in the morning.
Warm up your breakfast on our dual induction cooktop. Rinse off after a full day of adventures in the wet bath with Hai showerhead. With plenty of overhead and drawer storage, there is room for all your things. We like to think we have thought of everything to make your adventure complete.
Complex Monitoring, Simplified
For safe overland travel it is critical to be able to monitor your systems such as water levels and power.
We believe that these systems should be simple to understand and intuitive. In the Kokopelli, at a glance you can see the battery state of charge and the power usage of key components.
With the same interface, you can easily monitor water tank levels, temperature, barometric pressure and the vehicle's pitch and roll.View it all to feel confident in your overland camper's capabilities.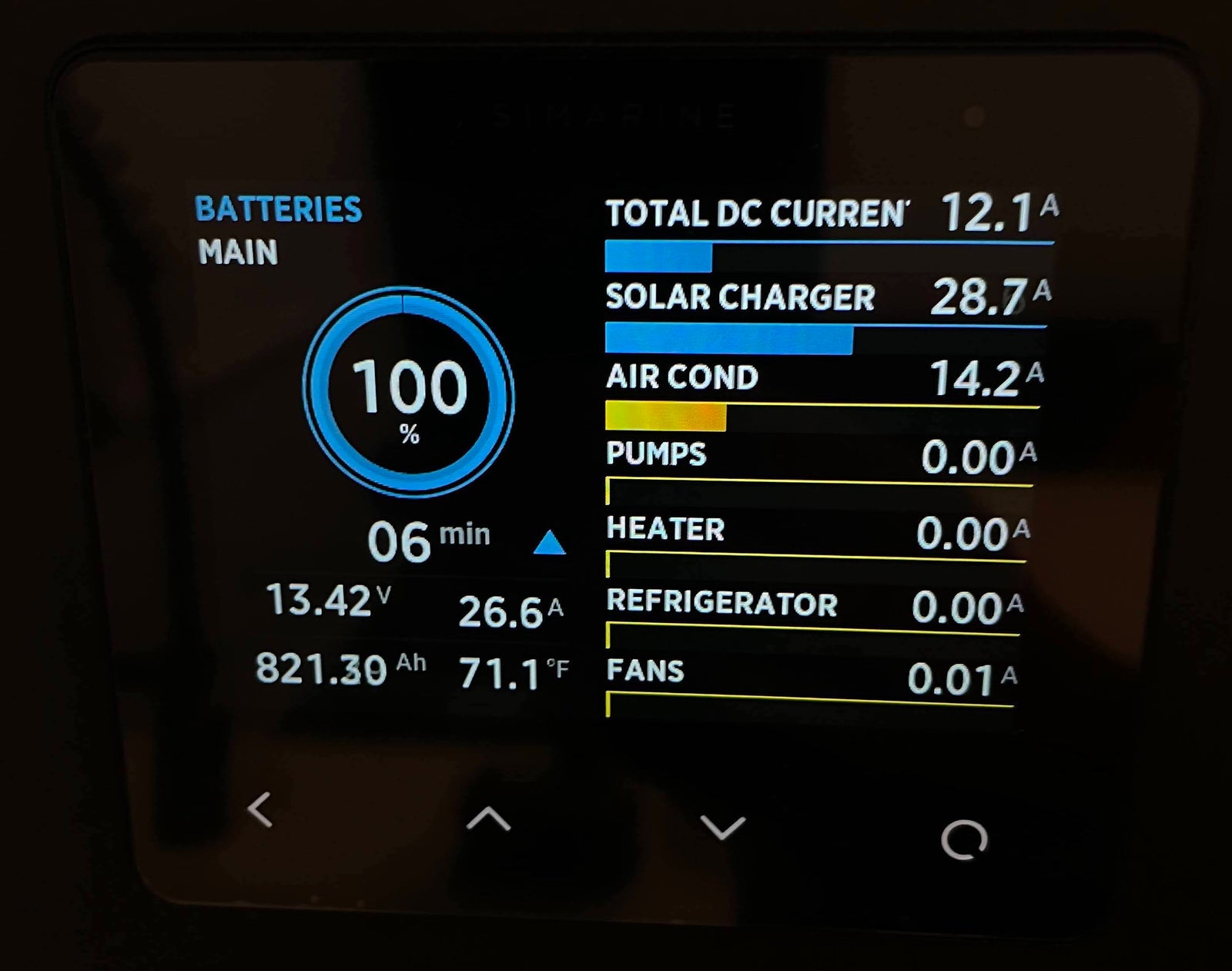 Personalized for your Adventure
A modular powered rear rack can be configured with your choice of gear carriers.
Modules can be switched out in seconds with no tools required.
Keep multiple modules at home for different adventures - bikes in the summer, ski box in the winter.